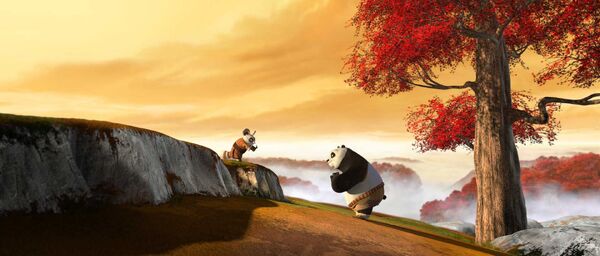 Kung Fu Panda is simply the best animated movie ever. Not only for children, but also for adults. The story is just so funny, stern and emotional at the same time and the characters are great! You can't help but feeling with them after a while, it's so touching!
With Po, being my favorite character, I can easily relate to him. Being someone that is totally different from others and some people don't believe that you can do it. He proved that you can do the impossible, no matter what you are. All it takes is a little belief. I'm also very glad that they didn't make him a total doush from their begining work. If so, I probably wouldn't like him so much.
Po, on the other hand was basically my other half! I eat when I am upset. I act clumsy but throw down when I have to. I have been made fun of and shunned and unpopular. I have a angry short tempered tiger on one side and a cute adorable and sweet panda on the other :D
Another facet of Kung Fu Panda I take thorough liking to is the characters and the story itself. It takes a lot to create such things, and to do it well takes even more time, patience and hard work. Kung Fu Panda (in my opinion) is one of DreamWorks' finest achievements in the movie industry. Although not for everyone, those who have a knack to appreciate it, truly may.
Of course, everyone has their own personal tastes in movies and other entertainment; if that's the case with these people, then that's perfectly okay and acceptable. But it's different for those who simply think it's "just a kid's movie", or that it "looks stupid". Hopefully they've actually watched the movies, because chances are they'll most likely see that neither of those descriptions properly fit.
Have you ever felt that you are another Po? If yes, this panda kigurumi is a must in your life. Check this out: http://www.pajamasbuy.com/onesies-hoodie-panda-pajamas-animal-costume-kigurumi-pyjama/